Hi there!
Since you're reading this page, you've probably just found this rather strange looking boat either on the water or washed ashore somewhere. I'm really sorry for the bait and switch as this page doesn't provide nudes like you would assume as I needed to provide a compelling enough reason to visit the URL written on the side of the boat. But now that you're here, would you please keep reading?
What is LoCARB?
LoCARB is a Low Cost Autonomously Run Boat Project.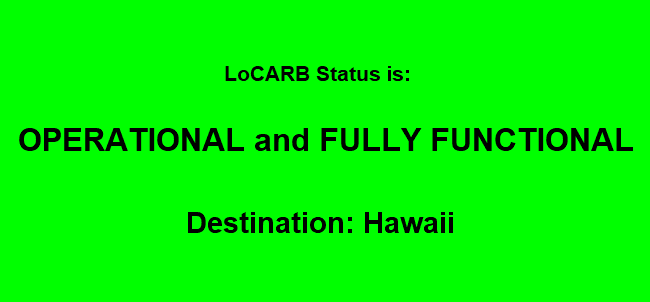 Will you:
Please gently place LoCARB back into the water so that it may continue on its journey. This autonomous boat is headed to Hawaii and is in bi-directional satellite communications with its home base. LoCARB is in perfect health and there's no need to worry about it 🙂
Please take a few photos of you with LoCARB and please email it to info@locarbftw.com to be included as part of its documented journey to Hawaii (you'll be famous!).
Please call, email, or text to touch base with me, I would love to know more about how you came to find LoCARB!
Call/Text – 650-866-5119
Email – info@locarbftw.com (or use the contact page).
That's all there really is to it! I really, really, really, hope you are able to let LoCARB continue on its journey despite the urge to bring it home and tinker with it. I very much appreciate it!
*If found in the water, if there is any seaweed or other debris on LoCARB would you help remove it? THANKS, it will help LOCARB move at a faster pace towards its destination!